Equity-Driven Enrollment Assessment
Equity-Driven Enrollment Assessment
Equity-Driven Enrollment Assessment (EDEA)
Like many two-year institutions, the COVID-19 pandemic had a substantial impact on enrollment in the Chabot-Las Positas Community College District (CLPCDD). The CLPCCD is working with Kennedy and Co., a higher education consulting firm that focuses exclusively in higher education and supports an array of strategic and technology services, including enrollment modeling.
Our collective work with Kennedy and Co. will help us analyze the process from starting an application for admissions through completing registration, and understand where we can provide a more equitable student experience, especially for students from underserved backgrounds and communities. At the conclusion of their comprehensive assessment, Kennedy and Co. will develop a set of actionable recommendations to improve the enrollment process and increase utilization of the district's current technologies to support beneficial enrollment strategies and tactics – at all stages of the student journey.
Click below for an overview of the project plan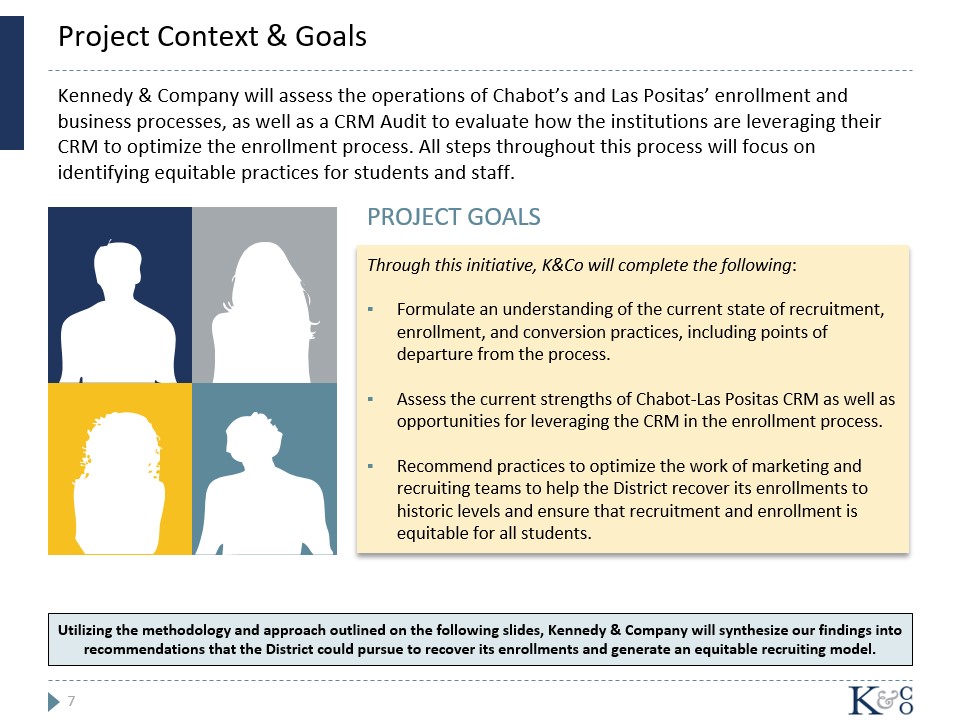 Follow Progress:
All district constituent groups will be represented at the monthly Chancellor's Council Meetings. Members of the Council will serve in an advisory role throughout the assessment project. The last half of each meeting will be designated as time for Kennedy and Co. to present updates and lead discussions among the advisory group. This is an open meeting, and all are welcome.
Dates: September 13, October 11, November 8, December 6
Designated Time for Assessment Project Discussion: 3:00 - 3:45 pm
*Please note that the regular Council meetings begin at 3:00 pm.
Zoom Information: https://us06web.zoom.us/j/92566328587?pwd=NVJ2U1J2dmRrMnhrSWRoSzhyOGMzQT09
Meeting ID: 925 6632 8587
Passcode: 433252
Click here to access the Chancellor's Council Webpage
Share Feedback:
We appreciate the feedback shared during the data collection phase of this project. The feedback form is no longer accepting submissions.
Project Co-Leads
Theresa Fleischer Rowland Ed.D.
Vice Chancellor, Educational Services & Student Success
Email: trowland@clpccd.org
Dionicia Ramos
Director, Public Relations, Marketing & Government Relations
Email: dramos@clpccd.org