How to Get Involved
How to Get Involved
Educational Master Plan and District-wide Strategic Plan

How to Get Involved
The District-wide Strategic Plan is informed through multiple input opportunities and a vetting process across the district. This document lists the participatory governance meetings to provide input November 2020 – March 2021. We look forward to your participation at these scheduled meetings.
To view the Comprehensive Planning Community Forums 1 and 2 that took place on Thursday, December 10, 2020, you may click on the recording links located below:

CLPCCD Comprehensive Planning Community Forum #1

Access Passcode: NH4W2V=@
CLPCCD Comprehensive Planning Community Forum #2

Access Passcode: q%PHn#8C
If you would like to email your input, please email districtwideplan@clpccd.org directly or reach out to Dr. Theresa Fleischer Rowland, Vice Chancellor Educational Services & Student Success.
Every member of our community is a stakeholder and, thus, very important to the planning processes at Chabot College, at Las Positas College, and at the District level. At the end of this 2020 comprehensive planning process, we will have three (3) plans that will guide the Chabot-Las Positas Community College District into the future, from 2021-2026, namely:
Chabot College Educational Master Plan (EMP)

Las Positas College Educational Master Plan (EMP)

Chabot-Las Positas Community College District Strategic Plan (DSP)
The strength of each of these plans will be based largely on the degree to which we have had significant participation by our internal and external stakeholders.
The integrated planning graphic found here highlights the key role of stakeholders in planning overall. The methods we are using to gather stakeholders' input and recommendations include focus groups, surveys, community forums, and interviews. And the "timeline" banner at the bottom of this page reveals when stakeholders will have additional opportunities to participate. Click on the activity you're interested in to sign up and obtain the contact person for more details.
If you are questioning who is a stakeholder, please check out the abbreviated list below:
Internal Stakeholders (over 30,000)
Current students and alums

Faculty (contract and adjunct)

Classified professionals

Administrators and executives

Volunteer professionals, i.e., Foundation Board members

Participatory governance groups - Senates, Committees, task forces

Board of Trustees
External Stakeholders (countless)
Alumni

High School Students (and middle college students)

Employers|local industries

Labor

Chambers of commerce

K-12 educational institutions

City engagement – Tri-Valley|(Inland Tri-Valley areas

Local four-year colleges and universities, including the CSUs & UCs

I TV

Regional Strong Workforce

Workforce Investment Boards

Regional Occupational Programs (ROP)

Families and Parent-Teacher Associations (PTAs)

Adult Education Consortia

Community-based organizations (CBOs)

Transit & Housing Groups

Policy Groups

Foundations (external)

Municipalities, cities and counties, including planning commissions and other public agencies

Peer community college districts
At Chabot College and Las Positas College, key groups are informing theEMP planning work at each college, as highlighted briefly in the April 2020 newsletters These include the PRAC (CC) and IEPC (LPC), in addition to the participatory governance committees and operational groups (divisions, units). They are also informing each of the time-sensitive planning workgroups listed below, which were specifically formed to advance the 2020 planning efforts:
DGCC - District-wide Comprehensive Planning Guidance and Coordinating Committee
This Committee works to: (a) ensure that Comprehensive Planning meets BP 3250 and is reflective of integrated planning across each College and the District as a whole; (b) guide the district-wide planning milestones, ensuring the process is smooth, inclusive, and integrated; and (c) pose and explore strategic questions with the College EMP Leads, the District Lead, and the Consultants.
http://districtazure.clpccd.org/dgcc/index.php
Members: Chancellor, College|District Senate Presidents (Faculty, Classified, and Student) supported by District executives and Signature Solutions Consultants
EMP Task Forces – College Planning and Coordinating
Led by College Presidents and their designees, the purpose of the EMP Task Forces is to ensure robust planning efforts, providing guidance on and conducting essential work, such as analysis of data collected at town hall meetings, and otherwise ensuring the development of sound Educational Master Plans (EMPs). Meetings are at least weekly at each college (check the college websites for details).

Chabot College http://www.chabotcollege.edu/planning/educational-master-plan/
Members: Diverse 10-member workgroup of faculty, classified, student, and administrative leaders, supported by Signature Solutions Consultants
Las Positas College http://laspositascollege.edu/emp/
Members: Diverse __-member workgroup of faculty, classified, student, and administrative leaders, supported by Signature Solutions Consultants
DSP Task Force
Led by the Chancellor and his designee, the purpose of the DSP Task Force is to carry out work deemed essential to ensure a robust district-wide strategic planning process that is informed by and supports the priorities of each college. Meetings will be at least monthly beginning June 2020.

Members: Chancellor, College Presidents, Vice Chancellor-ESSS supported by the District Vice Chancellors (and their staff) and Signature Solutions Consultants
Note: Additional details are provided in the "Resources" section of this Planning website.
Please use the timeline to find out more about the many opportunities to contribute.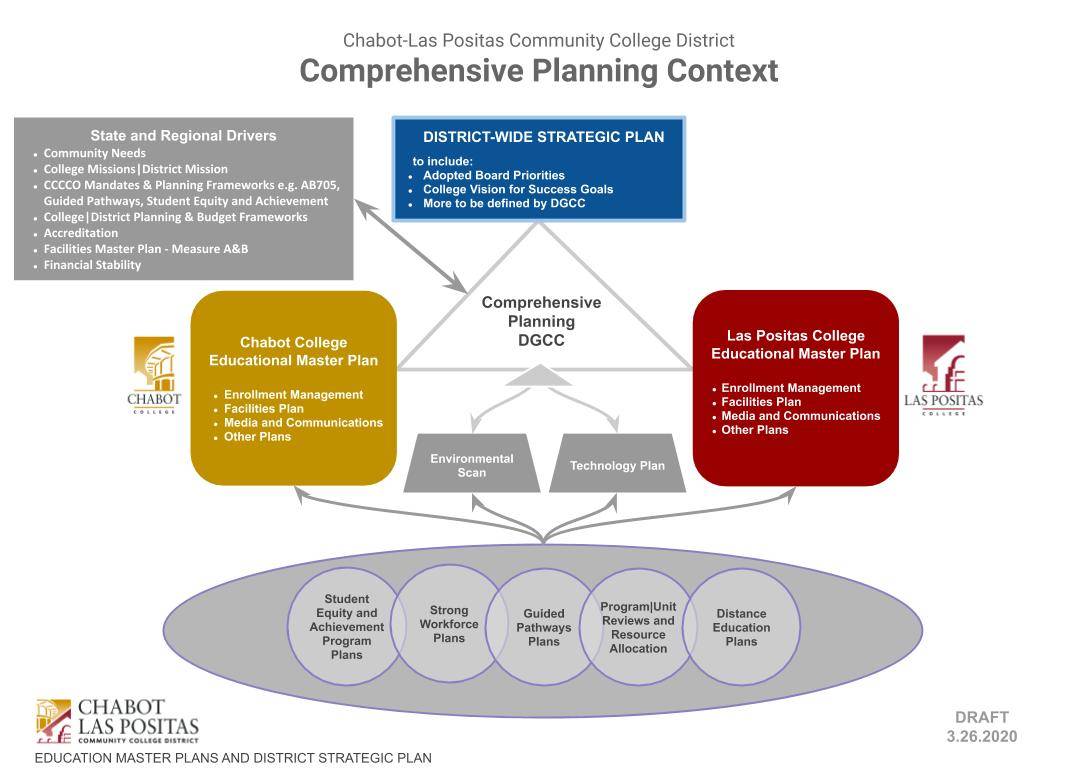 Click here for the Integrated Planning pdf.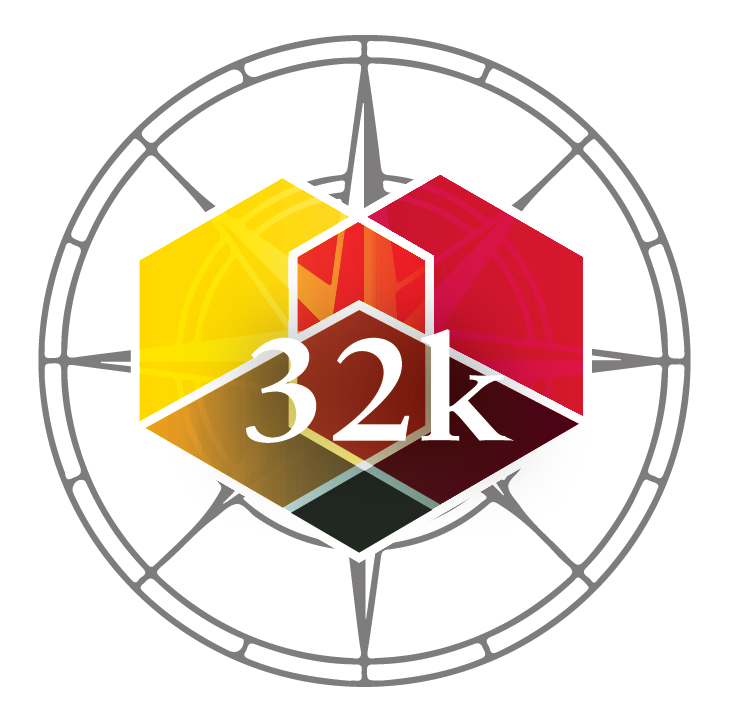 The Chabot-Las Positas Community College District serves 32 thousand students throughout the region and beyond. These students are the heart of the matter and the main focus of the EMPs and DSP.
------------------
2021-2026 District-wide Strategic Plan
2021-2026 Las Positas College EMP
For more information, questions or comments, please email or contact:
Theresa Fleischer Rowland Ed.D.,
Vice Chancellor
Phone: (925) 485-5244
Estella Sanchez
Executive Assistant
Phone: (925) 485-5278
Fax: (925) 485-5294